NOTE - "Good News" will appear on the Worship Together feed as a digital publication for the next several weeks as Shawn sets up his new home base in South Carolina.  The weekly video broadcasts will resume soon.  Thank you for your patience and understanding.


---

Incredible Athlete Becomes First Person with Down Syndrome to Complete Grueling Ironman World Championship
(Courtesy Blaze Media - Cortney Weil)

Chris Nikic has done it again. After he became the first competitor with Down syndrome to complete an Ironman triathlon back in 2020, Nikic has now become the first and only competitor with Down syndrome to complete the Ironman World Championship, which returned to Kailua-Kona, Hawaii, this year after a two-year COVID hiatus.
An Ironman is an especially challenging competition, both physically and mentally. It is composed of a 2.4-mile swim, a 112-mile road bike race, and a 26.2-mile marathon run. Each of those segments is an arduous task in and of itself. An Ironman stacks those races back to back to back. In addition, the Ironman World Championship, which began in 1978, requires all participants to finish within 17 hours, through heat, humidity, and all the mosquitos and other natural elements that often coincide with such conditions.
Last Thursday, Nikic finished the race with plenty of time to spare. He clocked in at 16 hours, 31 minutes, and 27 seconds, making him the 2,265th competitor out of 2,314 total to cross the finish line with an official time that day.
---

For Halloween You Can Rent the 3-Story Ghostbusters Headquarters–And Even Wear the Suits

(Courtesy Good News Network - Andy Corbley)

There's something strange in the neighborhood, and it's up for rent.
Sony and vacation rental company Vacasa are taking bids for the holiday rental of a fully-furnished, fully-functional, and fully-frightful Ghostbusters headquarters.
A group of friends can win a three-night stay at a recreation of the building set used in the famous 1984 movie in Portland, Oregon.
The private two-bedroom, three-story firehouse built in the early 1900s includes all the comforts of home with a full kitchen, multiple living quarters and endless Ghostbusters features, including a scientist-approved Ghost Containment System and a Dark Room where guests can develop and analyze photos of the Scourge of Carpathia.
The beds are freshly made, the ectoplasm has been expertly cleaned up, and the pantry is stocked—with StayPuft marshmallows and cheezy crackers (as long as Slimer doesn't get to them first).
---

College Wrestler Jumps On Grizzly's Back To Save His Friend During Attack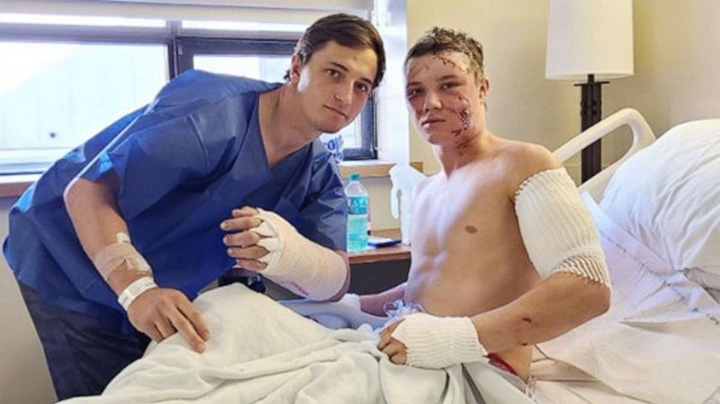 (Courtesy Sunny Skyz News)

Two college wrestlers survived a grizzly bear attack in Wyoming while hunting over last weekend. They stuck together to fight the bear off and lived to tell the tale.
The incident occurred on Saturday in Cody, Wyoming, when the two men encountered the bear at close range while they were in heavy cover antler hunting west of the Bobcat Houlihan trailhead on the Shoshone National Forest, the Wyoming Game & Fish Department said in a press release.
Kendall Cummings said he jumped on the grizzly to try and get him off his friend, Brady Lowry.
"I grabbed and yanked him hard by the ear," Cummings told Cowboy State Daily. "I could hear when his teeth would hit my skull, I could feel when he'd bite down on my bones and they'd kind of crunch."
The two men were somehow able to break free from the attack and call 911. One of the victims was flown by helicopter to a local hospital while the other was taken by an ambulance.
Both men, wrestling teammates at Northwest College, reportedly underwent multiple surgeries after sustaining major lacerations to the body and face.
But Lowry and Cummings are both counting their blessings and consider themselves lucky to have survived.
"I don't know what I'm going to pay him back, I don't. I owe him everything," Lowry told the Cowboy Daily Press regarding Cummings' heroic actions that saved his life. "We'll be best friends for the rest of our lives."
---

Pet Stories! - Cute Dog Walking Around Golf Course has Collected 6,000 Lost Golf Balls Which Are Donated to Charities
(Courtesy Good News Network - Andy Corbley)

An eagle-eyed pooch has become an expert at finding lost golf balls in London, so much so that he's helping provide golf charities with the balls they need to teach kids around the world.
Charles Jefferson must have felt he hit a hole-in-one when one day his dog, a cavapoo named Marlo, emerged from the bushes with a pristine tour-grade ball on the puppy's first visit to a local London golf course.
Jefferson, a top-level amateur golfer for four decades who used to work with the European Tour, realized that a retrieved mint condition Titleist Pro V1 retails for around £3.50, and that his Marlo might have a unique ability for finding lost balls.
He spent the next six years walking up and down courses with Marlo, watching and chatting, and getting out in the open air.
Between Mitcham Golf Club and Wimbledon Common Golf Club, Mr. Jefferson and Marlo filled dresser drawers with golf balls, but rather than a single instance of selling around 600 to a mate, he never had any interest with the "retrieval market" a cottage industry that's cropped up around recovering golf balls.
As an advertising and branding agent, Jefferson leapt at the chance to turn Marlo's abilities into a force for good after he heard of a donation drive to promote the prevention of litter from lost golf balls.
---

The "Good News" Digital Print Edition is a Worship Together publication.
A Ministry of "Aaron's Revival Project."
WorshipTogether.site | AaronsRevivalProject.com